Carpet Flooring Vancouver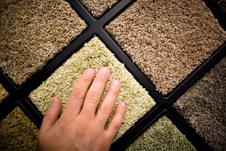 Mira Floors and Interiors offer a great selection of Vancouver carpeting options for both residential and commercial needs. We offer Vancouver carpet flooring installation services throughout and the Lower Mainland, British Columbia.
Warmth
Heat efficiency in the home starts from the floor up and statistically carpet provides the most warmth of any floor covering. It is the most efficient way to add coziness and comfort to a home. Wouldn't you rather step onto nice soft carpet when you wake up in the morning, instead of a cold hard floor?
Comfort
Carpet flooring will give you softness under foot by cushioning your footfalls and reducing fatigue. Carpeting allows you and your family to curl up on the floor to watch TV or just relax.
Design Versatility
Carpet flooring provides a necessary textural relief, which is increasingly important now that there is an increased focus on clean lines and simplicity in interior design. Carpeting forms the basis of your room. It will affect and set off all other colours and furnishings you choose to put in your home. Carpet offers a large array of choice and can add colour, pattern and of course, texture to your interior design.
Noise
Carpeting your home will soften harsh sounds and create a quieter, more peaceful living environment. As one of the most effective acoustical building materials, carpet will reduce noise generation in two ways - at floor level by cushioning objects hitting the floor, for example footsteps or dropped items, and by absorbing other sounds around your home without reducing the quality of projected sound such as your voice, or music. Contact Mira Floors & Interiors about your Vancouver carpet flooring installation today.
Carpet flooring articles for more information
Carpet Styles 101: From Berber to Textured
Guide to Carpet Fibres
Introduction to Wool Carpets
Eco-friendly Carpet Options
Importance of Carpet Pad