Cork Flooring Supply & Installation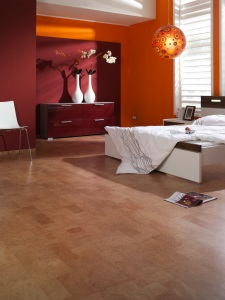 Cork flooring is made up of cork, a completely renewable resource harvested from living cork trees. No trees are cut down during the harvesting process, only excess bark is extracted and a new layer of cork regrows. There are many advantages to choosing a cork floor for your home or commercial space including flexible design, durability, warmth, and easy installation.
Design Flexibility
Cork flooring offers the ultimate in design flexibility as it can be easily cut to create floor designs such as mosaics or borders. Cork flooring tiles come in a variety of luxurious visual textures and earthy colour choices. Different colour hues can be achieved through baking or by applying stains – a truly versatile material for those seeking unique design approaches. A cork floor can enhance the style and décor of a room and is perfect for entrances, hallways, kitchens, and family rooms.

Durability
Cork flooring is durable enough to handle heavy foot traffic and use, even by children and pets. Cork floor tiles are impact resistant and return to their original state rather than scratching or breaking. Cork flooring is also mold, mildew, and fire resistant and is easy to clean and care for. When compared to alternative materials, cork flooring offers an attractive installed cost with economical maintenance over the life of the floor.
Resilience
Cork flooring reduces noise and vibration, providing comfort underfoort. Unlike hard surfaces such as wood, laminate, or ceramic tile, cork floors have "give" which makes it very comfortable to stand or walk around on. Cork flooring is a perfect flooring alternative for those experiencing joint, knee or back problems.
Warmth
Heat efficiency in the home or commercial space starts from the floor up. Cork flooring is a wonderful insulator against heat and cold because of how cork is naturally composed. Cork is comprised of 50% air which is trapped in small pockets that slow the transfer of heat or cold, giving an insulating factor. Cork flooring offers similar insulating qualities as carpet does.
Hypoallergenic
Cork floors are naturally anti-allergenic as they do not collect dust or shed micro fibers.
Easy Installation
Cork flooring installation services provided by MIRA Floors are done quickly and professionally. Our cork floor tiles can be installed directly over smooth concrete or construction-grade plywood.