Laminate Flooring
Laminate flooring is a multi-layer, cost effective plank flooring option. Unlike hardwood, laminate is not made using real hardwood. The planks are made using fibreboard instead. The wood look comes from a photographic layer. Here are some of the benefits of choosing laminate: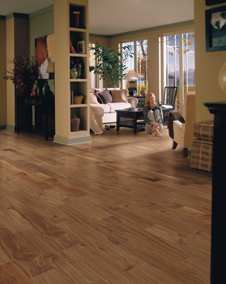 Very Durable Surface
Unlike wood, which can dent, laminate flooring is almost impervious to dents and scratches. Laminate flooring has what's called in the industry a "wear layer" that protects the photographic layer underneath. Some manufacturers give very generous warranties on this wear layer.
No Bad Pieces
Unlike real hardwood, which comes with many imperfect pieces that need to be thrown out or re-engineered, there are no defects in laminate flooring.
Good for Moist Places
Laminate flooring can be installed in bathrooms, kitchens, and other places where you encounter topical moisture, if it is cleaned up right away. Just like hardwood, laminate will not tolerate standing pools of water. For heavy moisture, you will need a very impervious surface like vinyl or tile.
Easy to Clean
Just use a vacuum or broom. Mop with a slightly damp mop. No floor waxing needed.
Resists Stains
Laminate flooring's tough surface resists stains. And if you do get a stain, it's easy to clean off.

Laminate flooring articles for more information
Laminate Flooring Frequently Asked Questions
Laminate Flooring Cleaning Tips
Acoustic Underlay Needed for Laminate Floors in Condo