MIRA Floors & Interiors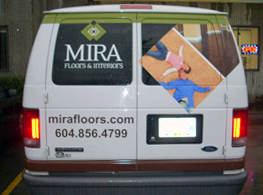 We value the principal of building a business by creating promoters of our flooring & interior company. On every completed job we solicit feedback from our customers and ask them "The Ultimate Question" made popular in 2006 by Fred Reichheld, which is: "on a scale of 1-10, (10 being absolutely and 1 absolutely not) would you recommend MIRA Floors & Interiors to your friends / colleagues?" >95% of our customers on an annual basis have scored us a "10" when it comes to their happiness with their flooring installation or other interior project. All of us at MIRA are proud of our Net Promoter Score and continue to look for ways to give our customers outstanding value, and build loyalty through exceptional experiences.
Over the years MIRA Floors & Interiors continues to evolve and has made a number of product offerings available to its customers including:
ICC certified and approved dealer
Carpet recycling through Shaw's Green Edge program
Window coverings including wooden shutters through vinyl blinds
Floor Manager software ensuring the best layouts for your environment saving you both money and reducing excess wasted material
Skilled craftsman who have been installing floors with MIRA for more than 5 years per installer and greater than 15 years of industry experience
Supplier relationships that cover the globe making available to you the finest flooring products
As you learn more about us through our website we believe you will discover that giving MIRA Floors & Interiors the opportunity to earn your business is a reliable choice for experiencing unsurpassed value in the flooring and design industry.
Design Consultation vs Big Box Store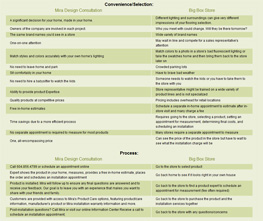 Mira Floors and Interiors matches up again the Big Box Stores and wins hands down! Learn more »