Vinyl Flooring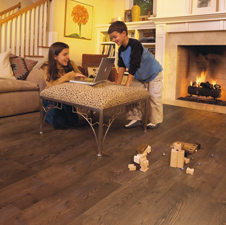 Design Flexibility
Vinyl sheet flooring and tile are available in a myriad of styles and colors. Vinyl tile is available in shapes that can be custom cut and laid out in patterns using different colors or finishes. Tiles can be arranged, for example, to depict a corporate logo or to guide traffic in a hospital or retail setting. Virtually any look can be obtained to suit any decor, including classic looks that simulate wood and ceramic. Custom-made designs are easily created using sheet vinyl flooring.
Resilience
Vinyl flooring reduces noise and provides comfort underfoot. Unlike such hard surfaces as wood, laminate, terrazzo or ceramic tile, vinyl floors have "give" and thus are referred to as "resilient" flooring.
Durability
Vinyl flooring is durable and time-tested, maintaining its beauty under heavy foot traffic and use. It is moisture and stain resistant, so spills can be easily removed. When compared with alternative materials, vinyl offers an attractive installed cost with economical maintenance over the life of the floor.

Vinyl flooring articles for more information
Benefits of Luxury Vinyl Flooring
Vinyl Flooring Maintenance Tips
Cork Backed Vinyl Plank and Tiles