Hardwood Flooring Vancouver
Benefits of a Hardwood Flooring Installation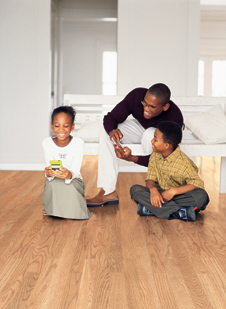 Hardwood Flooring Longevity
Hardwood floors can now last for decades, thanks to durable finishes that are easy to repair. New finish technology developed in the past ten to fifteen years has solidified hardwood as the durable, design friendly and long lasting flooring choice for consumers.
Coziness and Warmth of Hardwood Flooring
In comparison to laminate, customers will often reflect on hardwood flooring being more pleasant and warm to walk on which comes from the natural make up of wood. Wood floors are an excellent insulator due to the thousands of tiny air chambers per cubic inch, which hold in heat.
Hypoallergenic
Got allergies? Hardwood floors do not provide any place for pollen, animal dander, mold, etc. to hide and thrive. Hardwood flooring is an excellent choice for anyone with any kind of environmental allergies.
Hardwood Flooring Types & Wood Specimens
Solid Wood Flooring
Solid wood flooring is just that - a solid piece of wood from inside out. Solid hardwood flooring comes from milled solid lumber and is available in unfinished or pre-finished forms. Unfinished solid wood floors need to be sanded on-site and finished after installation. Pre-finished solid wood floors are installation ready and do not require additional preparation.
Engineered Hardwood Flooring
Engineered hardwood flooring is manufactured with a real wood surface and several layers of different wood veneers. Unlike solid wood flooring, engineered flooring is more dimensionally stable and suitable for basements. Both solid and engineered hardwood flooring are durable and long-lasting but engineered flooring is exceptionally strong thanks to its layers.

Hardwood flooring articles for more information
Solid vs Engineered Hardwood: The Difference Explained
Types of Hardwood Installation
Hardwood Cleaning and Maintenance
Hardwood Photosensitivity and Colour Change
Hardwood Trends: Distressed Flooring